Subscribe & Punch!
A downloadable Subscribe & Punch! for Windows
Subscribe & Punch! is a colorful and easy to play fighting game based on the wacky YouTubers universe. Roast the face of your opponents and experiment various humous interactions inside with YouFight: the virtual platform hosting the craziest fights!

The demo is a Pre-alpha, not representative of the final game, if the Kickstarter is successful we'll be able to release the final game (expected for July 2019).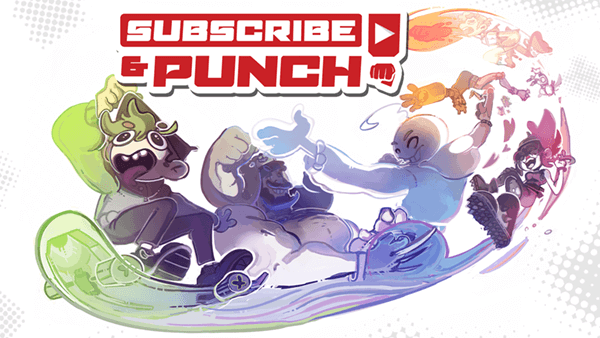 DEMO FEATURES
2 Playable Characters: Poodiepie (Pewdiepie), ToastyKen (Cinnamontoastken) & 2 Stages (Cryatomic Cemetery & Jackaboy Battlegrounds)
FULL GAME FEATURES
At least 5 Characters to Play: Poodiepie (Pewdiepie), Jackaboy (Jacksepticeye), ToastyKen (Cinnamontoastken), Markimoo (Markiplier), Unannounced Boss;
3 more Characters depending on the Stretch goals: YandereMinx (RPGMinx), Cryatomic (Cryaotic), The SexBo'Bomb (Game Grumps);
Your fighting style slightly impact the narrative, thus implying the emphasize of the characters relationships and the multiple dialogue possibilities inside the story mode.
Comments
Log in with your itch.io account to leave a comment.
It's everything you would want Smash brothers and, Youtubers can't wait to see the full release of this brawler! (I think it's best if you use a controller as, I was using a keyboard kind of hard to get buttons down!)
Hello! I adored your game so far, it has such a massive potential to be utterly glorious! The art is colourful and very well done and this demo is a great showcase of what you have so far and what will come later. I wish you all the luck in the universe in getting this game fully funded as I cannot wait to play the full version next year! 'Till then, I made a let's play of your alpha demo here~
Many thanks for the video and the feedback!
I did a quick showcase of the demo, everything is so stylized and colorful & I'm really excited for the actual release!
Can't wait for my Cryaotic baby to be playable. 💖
is there a way to play without a controller?
if there is i dont know how to do it,i pressed literally every key on my keyboard and nothing happened,btw im using HP.
Played one round and got my ass handed to me by ToastyKen, Only feedback I have at this point is that the voices seem really strange and the repetitive nature of the attack specific sounds starts to grate pretty quickly. Awesome Idea though!